Common Misconceptions About Property Division in a Divorce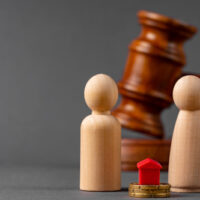 Divorce carries a lot of myths. These misconceptions arise from pop culture, word-of-mouth, and other misinformed sources. It's important to go into your divorce with eyes open and an accurate understanding of how the process works. Below, our knowledgeable property division attorney addresses and dispels a number of misconceptions regarding property division in a Texas divorce.
Myth: Property Is Always Split 50/50 on Divorce
The most common misconception about property division is probably that all property must be split equally, 50/50, between the divorcing parties. This myth is false for a few reasons.
First of all, only community (marital) property is subject to division. Separate property–property acquired before the marriage or acquired by inheritance or gift–is not subject to division.
Texas is a community property state, which means that community property is owned equally by both spouses. Upon divorce, however, the property might not be divided precisely 50/50 between the parties. The parties may reach a marital settlement agreement that gives certain property to one spouse and other property to the other. Parties typically omit personal items, even though they are technically community property.
If the parties cannot agree on property division, the court will attempt to reach a "just and right" division of property based on the couple's unique situation. The court can consider many factors including each spouse's contribution to the marriage, child custody, and each spouse's health, income, and earning capacity. Fairness or equity often leads the court to approximate a 50/50 split, but a precise 50/50 split is by no means mandatory.
Myth: An Asset in My Name is Not Community Property
In Texas, if you acquire assets during the marriage, those assets are community property that belongs to the marriage (the "marital estate"). There are limited exceptions for inheritance and gifts, as well as assets set aside by a premarital agreement. Otherwise, however, any property acquired during the marriage will be considered community property, regardless of whose name is on the title. Keeping a piece of property pre-dating the marriage in your name is useful in keeping separate property separate, but you cannot convert community property to separate property merely by putting it only in one spouse's name.
Myth: My Business is Not Community Property
Once again, the general rule carries: If the asset was acquired during the marriage, then it qualifies as community property. If one spouse starts a business during the marriage, even if they are solely responsible for operating the business, the spouse's ownership interest and any business assets owned by the spouse are considered community property. If it's a separate business established before the marriage, ownership may be separate, but income derived from the business might still count as community property.
Myth: Dividing Retirement Assets and Other Investment Accounts is Simple
Divorcing parties often go into the process planning to handle the matter themselves, without a lawyer. So long as the spouses can reach agreement, why hire legal counsel? Unfortunately, even if both parties agree on the division of property and other issues, legal and administrative complications can arise.
Dividing retirement assets, in particular, can be complex and involved. Administrators of pension plans and other retirement assets are not at liberty to disburse assets to the non-employee spouse just because they are asked to do so, nor are they required to honor the terms of a divorce decree without an additional legal mandate. To divide retirement assets, parties must obtain a special court order known as a Qualified Domestic Relations Order, which directs the administrator of the plan to disburse funds to the non-employee spouse. It's worth obtaining help from an experienced divorce attorney to make sure assets are appropriately split and distributed to the respective parties.
Call an Experienced Texas Divorce and Property Division Lawyer
If you are dealing with property division issues during or after divorce, you need assistance from a zealous Texas property division attorney. Call a dedicated divorce and property division attorney at the Law Office of Maria Lowry to discuss your Texas divorce and property division matter.