Do I Need a Lawyer for an Uncontested Divorce?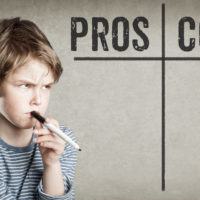 Divorces are often difficult, time-consuming, emotional, and expensive. There are, thankfully, routes to streamline the divorce process to a certain extent. If you and your spouse agree that divorce is the best option and can work to approach the related issues with an open mind, the process will be much easier. However, there are still legal hoops to jump through, and, often, disputes and complications arise. An experienced Houston divorce lawyer can help you protect your finances, your rights, and your property, even if you are seeking an uncontested divorce.
What is an uncontested divorce?
Uncontested divorce, also called "simple agreed divorce" or "amicable divorce," is a streamlined approach to the typical divorce proceeding, meant for divorcing couples who can amicably resolve the divorce and do not need to go to court. Uncontested divorces are available for divorces in which both parties agree to all issues including property division, custody, visitation, child support, etc.
If you and your spouse do not disagree on any issue involved in the divorce, then you can file for divorce by filling out a series of forms with the appropriate local court. The court can provide the paperwork for you in hard copy, and the court clerk may be able to help determine if you are missing any specific forms. If you and your spouse do not agree on any issue in your divorce, then uncontested divorce is not available, and the court will have to get involved.
Can I go through an uncontested divorce without an attorney?
The short answer is: Yes. You do not need an attorney, by law, to file for uncontested divorce, and you can go through the process yourself. However, there may still be reasons why you want to have a lawyer on your side throughout the process.
First of all, if you are hoping for an uncontested divorce but you and your spouse still have specific issues to work out (property division, for example), it can be helpful to have third parties handle those negotiations. Your attorney and your spouse's attorney can translate your respective wishes into specific, agreeable provisions, rather than the two of you having a discussion that might turn contentious. Divorces are emotionally-charged at the best of times, and anything you can do to preserve the uncontested nature of the divorce is preferable to fighting things out in court. Dealing with property division and custody arrangements can be much more complicated than it may appear at first blush, and having an attorney in your corner can be incredibly beneficial, if not outright essential, in avoiding unforeseen problems.
Moreover, uncontested divorce still requires filling out a series of legal forms, collecting documents regarding your finances and property, and filing the appropriate documents in the appropriate courts. You may still have to appear in person to provide the court some basic testimony before the court will agree to the divorce. Specific rules vary by county, and it can be more trouble than it is worth for you to deal with jumping through these legal hoops while you are trying to get your life in order.
An experienced divorce lawyer can also help you account for all the other side issues that arise when you are filing for divorce. You need to change your will, determine if you need to reach agreement on paying for any expenses such as your children's college, prepare for changes to your taxes, etc. Your attorney will also ensure that the agreement incorporates all related aspects so that you do not show up to court with unconsidered issues left unresolved.
Help with All Types of Divorce in Houston
If you're facing child custody, divorce, or other family law issues in Texas, get legal help protecting your rights by contacting the talented, compassionate, and experienced Houston family law attorney Maria Lowry at 713-850-8859.