Do I Need a Lawyer for Divorce?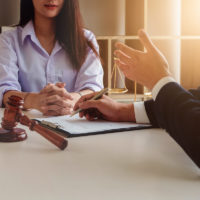 If you are facing the possibility of divorce in Texas, you may wonder whether an attorney is worth the expense. Do you need a lawyer to see you through the process? The short answer is: No, you do not legally need a lawyer to obtain a Texas divorce. The longer answer is: Yes, you should absolutely have knowledgeable and passionate legal counsel in your corner in order to ensure that your rights and interests are protected and that the ultimate outcome is the best possible result for you and your family. Throughout your divorce you will want a dedicated, seasoned Houston divorce attorney in your corner, and you will want to find one who is right for you and your situation.
Questions to Ask Your Divorce Attorney on First Visit
In order to find the best divorce lawyer for you and your family, there are a few questions you should be prepared to ask yourself and your attorney during your initial consultation.

Does the attorney focus especially in divorce, or is divorce just one part of their practice? You want an attorney who focuses half or more of his or her practice on family law issues such as divorce, custody, and child support. And an attorney who does not have other practice areas may inadvertently set up a problem in another area of your life.
How long has the attorney been practicing family law? What are their credentials? Look for attorneys who are actively involved in Inns of Court or in local Bar associations, or members of the Texas Bar College. Don't get hung up on board certification. For Texas attorneys, it is an add-on. It's not a baseline requirement like it is for doctors. Talk to friends and relatives about their family law experiences and get referrals from them.
What is the fee structure? How much do they expect the case will cost? One of your first questions should be how the attorney will bill you. Will they charge you per hour spent on the case or instead charge you a fixed rate for certain tasks? Are questions and consultations included in either arrangement? Divorces can take months and sometimes years, so the fee structure and expected rate can be incredibly important to your finances. A fixed-rate plan may be helpful for your planning but it may result in paying more than if you are paying hourly – you will decide if it is right for you.
Has the attorney handled similar cases to yours? While there are issues common to all divorces, each case presents unique issues. Ask your attorney if they are familiar with cases involving circumstances like yours, if they are familiar with what you are seeking to achieve, and if they are able to protect your rights and assets.
Are they prepared to handle specialized issues you expect to encounter? Your divorce may involve special issues that go beyond the norm. Are there immigration concerns? If you are a high-asset client, is the attorney experienced in dealing with complicated financial issues like finding hidden accounts, valuing complex business assets, and retaining appropriate financial experts? If you are a public figure, are they prepared for dealing with media inquiries and other publicity issues?
How does the attorney prefer to communicate with clients? Some attorneys prefer emails, others are comfortable texting. Some attorneys are difficult to reach on a daily basis and others are very responsive. It is important to know what you are getting into, and what matters to you in terms of regular communication. Most attorneys are easier to reach by email because they are often in court or other places phone calls are not possible.
Will the attorney encourage you and your spouse to develop a good co-parenting relationship during and after the divorce process? During the divorce it is easy to see your spouse as the enemy but if you have children you also need to be laying the foundation for a good co-parenting relationship that will last through your children becoming adults, getting married and making you into co-grandparents. What you do now can have ripples through decades so it is important your lawyer encourages good communication with your spouse during the process.
Will the attorney provide you with copies of all the documents in your case? Some attorneys have a portal to which they upload documents and it's up to you to download them for your records. Other attorneys will email things to you as they are received or created. There will probably never be a paper file. Know what to expect.
Are you comfortable with the attorney? Ultimately, the most important takeaway from your first meeting is whether you feel comfortable with the attorney and confident about their representation. You will be with them for the duration of a long, difficult, and often emotional process. It is vital that you and your attorney see eye-to-eye, and that you are able to place your trust in them to handle your case.
Experienced Houston Divorce Lawyer Maria Lowry is Here to Help
If you're facing divorce or other family law issues in Texas, get legal help protecting your rights by contacting the seasoned, compassionate, and effective Houston family law attorney Maria Lowry for a consultation at 713-850-8859.