How Do Prenups Affect Mortgages?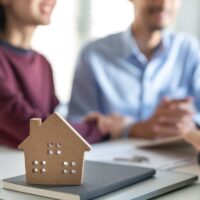 For some couples, a prenuptial agreement can be a necessary piece to having a successful marriage. As these agreements have ticked up over the past couple of years, their popularity is sometimes overshadowed by the complexity and misunderstanding that often surrounds them.
Even after establishing a prenuptial agreement, different variables later on in life can impact the details of your prenuptial agreement. One such variable is a new mortgage. It's important to understand how a prenup can affect a mortgage because, for many, a mortgage is a major life milestone that can have lasting effects both during and after marriage.
What Is a Prenuptial Agreement?
A prenuptial agreement, or a prenup as it's commonly referred to, is a legally binding agreement made between a couple before they enter into a marriage. If a couple has already entered into a marriage, then they can agree to a postnuptial agreement. With both types of agreements, details regarding the division of assets and liabilities are spelled out in the event of a divorce or death.
For some couples, prenuptial agreements are highly recommended because they offer a form of protection, especially if there is a vast discrepancy in wealth between both parties.
What's Included in a Prenup?
Prenuptial agreements can discuss and cover more than just tangible assets. Not all prenups will include the same details either, as every couple's circumstances are unique. Typically, however, you can expect prenuptial agreements to discuss the following:
Protecting the financial interests of children from previous relationships
Property protection and estate planning
Details regarding how real property distribution occurs following a divorce
Details on ownership of personal property including savings accounts, real estate, vehicles, and other assets
Protection against debts incurred by your spouse
Retirement benefits
Distribution of property and life insurance in the event of a death
Details regarding potential disagreements in the event of life milestones
Details regarding alimony or spousal support.
How Will a Prenup Impact a Mortgage?
Prenups can impact mortgages in several ways. If a mortgage has already been in place before the prenuptial agreement, then it can often be easier to spell out and determine how your mortgage will be impacted. Typically, if an individual claims a property as their own in a prenuptial agreement, then that individual is responsible for the mortgage payments.
If a couple purchases a home after a prenuptial agreement has already been established, the couple needs to determine if and how they want to add the property to the prenuptial agreement.
If a couple decided not to include an acquired property in a prenup, the property can instead be classified as shared property. In the event of a divorce, the couple or the court can decide how the shared property is divided.
If you will be including property with a mortgage in a prenuptial agreement, then you need to be clear and concise in how the property will be included. Some questions to consider include the following:
Whose name will be detailed on the house title?
Whose name will be on the mortgage?
How will mortgage payments be split between the couple if at all?
Who will be responsible for taxes and homeowners insurance if not already included in the escrow?
How will decisions regarding the property's maintenance and sale be made?
Seeking Legal Guidance
A mortgage is one of the biggest decisions an individual can make in their life. Once you and your spouse take on a mortgage, there is more opportunity for tension to unfold in the unfortunate event you move forward with a divorce. Because of this, it's important to consider if and how to include a mortgage in your prenuptial agreement.
Speaking with an experienced family lawyer can help you plan for your future. At the Law Office of Maria Lowry, our dedicated team can help you explore what options are best for you and your future or current spouse and whether a prenuptial or postnuptial agreement is an appropriate way to move forward.