How Does Incarceration Affect Child Support in Texas?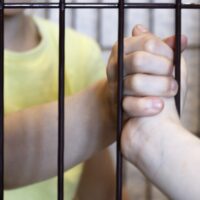 Life can throw some people one curveball after another. If you are divorced or separated from your child's other parent and you or your co-parent are sent to jail, what happens? Do child support obligations change? If the paying party is sent to jail, does their support obligation automatically end? If the receiving party goes to jail, what happens to the support payments they usually get? Read on to learn about how incarceration affects child support in Texas. If you have questions about Texas child custody or child support matters in Harris County, call an experienced Houston family law attorney for help.
Incarceration of the Paying Parent
Child support is a legal obligation that is enforceable until a court says otherwise. Failure to pay child support can put a parent in legal hot water, facing penalties such as wage garnishment and even contempt of court, which can lead to jail time. If a parent becomes incarcerated, however, isn't it reasonable to say that they can no longer pay child support? Shouldn't their obligation stop at that point, at least until they are released and can resume working and earning income?
The answer is as stated: Parents owe child support until a court says otherwise. If a parent owing child support becomes incarcerated, they continue to owe child support until they obtain a new court order relieving them of their obligation. The paying parent can take steps to request a modification of their child support order. With help from an attorney on the outside, the parent can file a request for a "review and adjustment" of their child support order.
The incarcerated person can file a request with the Office of the Attorney General, who can then file the paperwork in family court on behalf of the incarcerated parent. Alternatively, the parent can have an attorney file their request in family court directly on their behalf. The attorney will file the appropriate documents, including a statement regarding income and assets and the request for modification of the child support obligation.
Texas law states that the court should presume that parents are earning at least minimum wage absent evidence to the contrary, but this presumption does not apply to incarcerated individuals. Courts commonly grant requests to stop or put a hold on child support while the paying parent is incarcerated. Moreover, courts are not supposed to order child support if the paying parent is already incarcerated at the time.
Incarceration of the Recipient
Child support payments will continue to go to the recipient as originally dictated unless someone involved requests to modify the child support arrangement. That means the money will continue to be deposited in their account or sent via check in the mail to the address previously provided. If someone else is taking care of the child while the parent is incarcerated, the parent can request that child support payments be sent to the person with physical custody instead.
If you're facing the prospect of divorce in Texas and want compassionate, effective legal help in resolving a custody dispute or reaching a divorce settlement, contact the Houston offices of family law attorney Maria Lowry for a consultation on your case.