How is Mediation Different from Courtroom Divorce?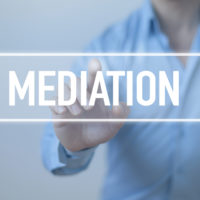 Divorce can be painful and financially detrimental even under the best of circumstances, but there are approaches to divorce which can exacerbate these effects, leaving both you and your ex struggling to make ends meet. A long, drawn-out divorce trial is sure to be draining not only on a personal level, but also on a financial level. Instead, you may want to consider the benefits of mediating your divorce. Read on to learn about the benefits of mediation, and contact a knowledgeable Houston divorce attorney to assist you in deciding the best course of action for you and your children.
Mediation offers privacy
When your divorce goes to trial, it is by default a public proceeding. Courtrooms are open to public visitors, meaning that anyone could wander in off the street and hear discussions about matters you may consider very private. In contrast, mediation is an entirely private and confidential process, involving only your lawyers and a private mediator.
Mediation can make divorce less expensive
Divorce trials involve not only court fees, but also require hours more work on behalf of an attorney, causing a disputed split to last much longer. Mediation is typically much shorter and lacks the time-consuming formalities of a courtroom divorce.
Mediation can reduce the stress of divorce
If you've been fighting with your spouse for years, you're probably ready for a break. A mediator will encourage you and your spouse to understand the other person's position and find a compromise that will satisfy both sides. In contrast, courts tend to promote an adversarial zero-sum approach to the conflicts you experience with your spouse. Not only will a less-adversarial proceeding be less stressful for you, but your children will also be spared the stress of being bystanders to an extended fight between their parents.
Mediation offers a more personalized outcome
Judges are required to follow established case law when ruling on disputed issues within a divorce. When using mediation instead of court, you and your ex will have more freedom to communicate openly and be heard by the mediator, and to design the outcome that meets your family's unique needs.
Mediation is an alternative to trial, but it is not a complete substitute for court involvement. After mediation one (or in some courts both) of the parties must go to court to "prove up" the mediated settlement agreement, but this court appearance is much briefer, less stressful and adversarial than actual courtroom trial. If you need knowledgeable, compassionate, and effective assistance from a divorce mediation attorney, through mediation or litigation, contact the Law Office of Maria Lowry for a consultation at 713-850-8859.