Retroactive Child Support in TX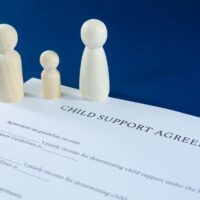 If you believe you are entitled to child support, it's important to act quickly to exercise your legal rights. It can be challenging to get a parent to pay child support with a court order already in place, but what about the time period before you obtain the child support order? Can you ever get paid retroactively for that time? Continue reading to learn about retroactive child support from our experienced Texas child support attorney.
What Is Retroactive Child Support?
Retroactive child support refers to any child support for the period before a support order is made by a court. A petitioner asks the court to order the child's other parent to pay child support that they would have owed had a support order been in place earlier.
How Is Retroactive Child Support Different From an Arrearage?
Retroactive child support is different than a child support arrearage, which is where one parent has failed to pay their court-ordered support obligation for a period of time.
Can You Get Retroactive Child Support in Texas or Sue About an Arrearage?
Typically, parents can seek to enforce a child support order to receive payments due and unpaid per an existing child support order. This usually results in the non-paying parent being found in contempt of court. Contempt of court is punishable by fines or by jail time. You need a lawyer for that because it is very technical and a defect in the petition can mean the whole case gets thrown out.
If there has never been a child support order, there is a legal presumption that the court can only order four years worth of retroactive support. Your lawyer may be able to overcome that presumption and obtain an order for support going back further, to the birth of the child and possibly including prenatal care. You'll have to prove that the other parent knew about the child, knew how to find you, and what his or her income was during each of those years. Retroactive support is usually ordered to be paid out over a period of time, not as a lump sum.
In Texas, a party can seek to enforce an arrearage for a short period after the child has turned 18. The money goes to the parent who raised the child, not to the now-adult child. If the non-custodial parent has never been ordered to pay child support and the child has turned 18, there is also a short period during which a retroactive support case can be brought.
Call an Experienced Texas Child Support and Child Custody Lawyer
If you are dealing with child support issues during or after divorce, you need assistance from a seasoned Texas family law attorney. Call a diligent divorce and child support attorney at the Law Office of Maria Lowry to discuss your Texas child support matter.