Things to Consider Before Your Texas Divorce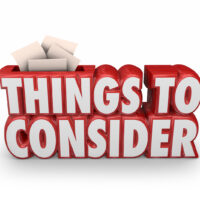 Divorce will affect every aspect of your life—your home, your finances, your relationships, your family, and your emotional well-being. Before filing for divorce—potentially before telling your spouse you want to divorce—it's a good idea to prepare for the process in the most critical ways. Read on to find out what you should consider before your Texas divorce, and speak with an experienced Houston family law attorney with any questions.
Consider how your financial life will be affected by divorce: During a marriage, nearly all of the money you earn, debts you accrue, the property you purchase, credit cards you use, or contributions you make to investment accounts will be considered joint marital property. Consider how a split will affect your financial life before you file for divorce. Is there a possibility your spouse will cut you off from being able to access your bank account or credit cards? Are they likely to drain these accounts before the court can intervene? Make sure you have an alternate source of funding for your daily expenses.
Make sure you know the location of important financial documents: When you file for divorce, you'll need to be able to reference any documents or statements related to jointly-filed taxes and marital property. If your spouse is the one who has been primarily responsible for financial matters during your marriage, you may want to locate and make copies of these documents and learn their contents while you're still living with your spouse.
Figure out where you'll live: Finding an affordable place to live during your divorce can be a challenge. Whether for the sake of maintaining stability for their children or due to financial concerns, some spouses manage to share a home during a divorce, but for most, this arrangement is stressful. If your finances are limited, you may want to find a friend with a spare room while you wait for the court to establish interim spousal support that will provide you with the costs of living until the divorce is complete and the court makes a final award of alimony.
Have a plan for custody: If you share children with your spouse, consider how you and your co-parent might share custody. Will your kids be able to keep living with you in your new home? Will you need to find after-school care if your spouse will no longer be staying home with your children? Will you need to adjust your work hours to pick your children up from school?
Interview attorneys: Not all Texas divorce attorneys are created equal. By speaking with several divorce lawyers about how they would handle your case, you'll be able to find one whose approach mirrors your own. If you want to keep your divorce as amicable as possible, look for an attorney who prefers mediation or seeks to settle as much as possible out of court. If you believe that your divorce is going to be contentious and complex, look for an attorney with experience in trials and high-conflict divorce.
If you're considering divorce in Texas, discuss your options with a compassionate and professional attorney by contacting Houston divorce lawyer Maria Lowry for a consultation at 713-850-8859.