Three Tips on Sharing Custody in the Manner that Best Meets your Children's Needs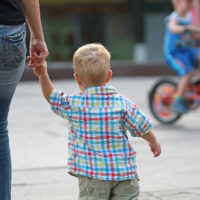 All parents would love to be able to provide their children with a stable, happy home helmed by two parents who love them and love one another. Unfortunately, this isn't always possible, and couples often reach the conclusion that continuing to live as a married couple would do more harm to their children than it would to live separately. While there will always be some amount of disruption when parents switch off custody of their children, there are strategies you can use to make the process of sharing custody as easy as possible on your kids. Below, find tips on how to best promote your children's best interests while sharing custody.
Keep it simple, and in writing
It's hard enough keeping up with all the activities your kids are involved in, such as sports, music lessons, or playdates with friends. Adding custody exchanges on top of this can result in missed events or confusion over where your child is supposed to be and when. In order to save yourself stress, create as simple a schedule as possible dictating when you and your ex will exchange custody of your children. Also, be sure to create a written version of the custody schedule, and if at all possible, make that written calendar a shared electronic one, so that you, your co-parent, and your children can all access the calendar to view and edit the schedule as needed. Communication tools such as Our Family Wizard or TalkingParents can help facilitate these exchanges.
Allow children to have input
Children often feel powerless in a divorce, since they do not have a say about whether their parents split up and move apart. Give your kids some input into the custody sharing arrangement you and your co-parent create, to allow them to feel some control over their lives and schedule, and let them feel like you respect their input and needs.
Allow the schedule to evolve and change as your children do
While it might be important that you and your ex see your younger children at frequent intervals, it may not be as critical for you to have as much face time with older children or teenagers. Those older children may also have demanding homework or extracurricular loads that can make frequent house-swaps even more of a challenge, and they may also want to spend more time in the home that's closer to their friends. Rather than setting a schedule once and refusing to review it, adapt to your children's evolving needs by altering the visitation schedule as needed, and make up for lost face-to-face time through phone calls and texting with your older kids.
For assistance with your Texas custody dispute or divorce, reach out to the compassionate and dedicated Houston child custody attorney Maria Lowry for a consultation, at 713-850-8859.