What is Collaborative Divorce?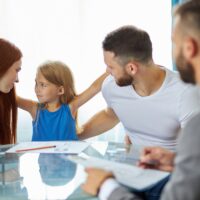 Family law is an evolving field. Historically, most divorce disputes were resolved in the courtroom or via settlement negotiations. Now, there are a variety of forms of alternative dispute resolution aimed at limiting the time, cost, and energy required to get a divorce decree. Mediation, arbitration, and collaborative divorce are among the new means for achieving a final divorce resolution without fighting a prolonged court battle. Continue reading to learn about collaborative divorce. If you are facing a divorce in Harris County or need assistance with any other family law matter, reach out to a talented Houston divorce lawyer for advice and representation.
How Does Collaborative Divorce Work?
Collaborative divorce is a form of structured settlement negotiation, meant to be more collaborative and less contentious than litigation or arbitration, but allowing for more time and advocacy than mediation. In a collaborative divorce, the parties make a good faith effort to find mutually advantageous solutions to any disputes remaining in the divorce, while each is represented by their own attorneys. Attorneys in the collaborative divorce proceeding are trained in interest-based negotiation, rather than contentious and zealous litigation. It is not a battle; it is a negotiation.
The parties to a collaborative divorce enter into a participation agreement at the start. The agreement sets the rules of the negotiation, including that each party will attempt to arrive at solutions in good faith and will be fully transparent (including identifying all assets and liabilities). Other specialists such as child mental health specialists or financial planners may be brought in as neutral consultants to help resolve issues such as child custody, property division, or spousal support. The parties continue to meet and negotiate until a complete settlement is reached.
Advantages of Collaborative Divorce
Collaborative divorce tends to be much cheaper, faster, and less contentious than divorce litigation. It is also more private; none of the evidence presented or statements made will be public, unlike court filings. Moreover, if collaborative divorce fails to reach a satisfactory settlement, none of the statements made or consultant testimony elicited during the process can be later used in arbitration or court. Parties will also obtain new lawyers for the litigation. By agreeing at the outset not to pursue litigation, the attorneys and their clients show a strong commitment to the collaborative process and making it work if at all possible.
Collaborative divorce can also present a good foundation for positive co-parenting after divorce. By entering into the process with a collaborative mindset from the start, and by listening to child health specialists and other experts, parties are less likely to feel adversarial after the process concludes. An amicable divorce is better for all parties involved.
Collaborative Divorce vs. Mediation
Mediation and collaborative divorce both emphasize cooperation over contentious disputes, but there are some differences. Mediation involves retaining a single third-party mediator to help resolve disputes; parties may or may not bring lawyers to the mediation; and the process is meant to wrap up after just a few sessions. In a collaborative divorce, the parties do each have their own lawyer; other experts and consultants may be retained; and the parties set the pace for the negotiations. Collaborative divorce thus allows for more time for the parties to reach a complete settlement.
Collaborative divorce and mediation are great options for divorcing parties who can set aside their differences and work cooperatively toward the resolution of their disputes. This is not possible for many divorces, where emotions can run hot and issues can become very contentious. Talk to your divorce lawyer about your options for dispute resolution to discuss whether a collaborative divorce or another alternative form of dispute resolution may be right for your matter.
If you're dealing with alimony, property division, child support, divorce, or other family law issues in Texas, get seasoned help protecting your rights by contacting the savvy and compassionate Houston family law attorney Maria Lowry at 713-850-8859.