What is Mediation?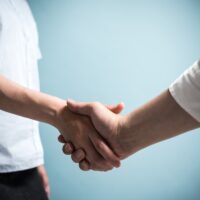 Divorce can be an emotionally-wrought, expensive, and drawn-out process. In an ideal world, both parties would enter the process in agreement both as to the necessity of divorce and as to how the divorce should be resolved in terms of child custody, child support, alimony, division of property, etc. Most divorcing couples do not start off in total agreement on all issues. However, not all divorces need to be resolved through protracted, heated court battles. We encourage all of our clients to explore alternative methods for dispute resolution, including mediation. Below, we discuss mediation and how it works in a family law setting. If you are facing divorce in Harris County or need assistance with any other family law matter, call a knowledgeable Houston divorce lawyer for advice and representation.
Mediation is Not Court
When you go to court, you are subject to a variety of strict formalities and legal processes, including how evidence can be entered, what types of arguments can be made, and who gets to resolve the final dispute. Trials are also inherently adversarial, meaning each party is supposed to fight as hard as possible for their side. The adversarial process assumes that the best result, and the "truth," will emerge from each side working for its own cause.
Mediation is different. Mediation is meant to be a less formal and less combative process. Mediation involves both sides approaching the various contested issues from a perspective of finding common ground and resolving matters to the satisfaction of all sides. It is meant to be a collaborative process with each party finding compromise in order to come to a common agreement. Mediation tends to be less expensive and more efficient than court battles, and it has the benefit of being entirely confidential–no public court filings. Also, mediation can result in a solution that is more creative and tailored to the family involved. If it goes to court, the judge has fewer options and may arrive at a solution that no one likes.
Mediation is often required before the court will hear a case. When mediation is ordered by the court, the parties must attend and make a good faith effort to resolve the issues in their divorce.
How Mediation Works
Mediation involves both parties and their legal representatives sitting down for less formal discussions concerning the issues pertinent to a divorce (or other family law contest) alongside an appointed mediator. Unlike a judge, the mediator is not there to make final decisions concerning any given issue. Instead, the mediator is present to facilitate the discussion and help the parties reach an agreement. The mediator will help the parties:
Identify areas of agreement
Identify issues that need to be resolved
Create a plan for addressing each issue
Discuss possible solutions
Reach agreement on financial and parenting issues
Draft a settlement agreement
Review, revise, and prepare the agreement for signing
Mediation can happen in a few different ways. Parties can meet for a single session to resolve all of their issues, or they can have a series of meetings over a few weeks or months. Parties can even choose whether to all meet together or to each meet with the mediator separately, which can help avoid triggering any heated exchanges. When all issues are resolved, the mediator will help prepare an agreement (a "mediated settlement agreement") for the parties to sign.
Ideally, mediation will result in a settlement agreement upon which both parties agree. After the agreement is signed by the parties, attorneys from each side will put together a draft comprehensive final divorce decree drawn from the settlement agreement, which will then be submitted to the judge to put it into effect.
Don't go it alone. Mediation goes quickly and is irrevocable in many cases so it is important to attend with counsel. A lot of jargon, acronyms, and shorthand terms will be used. A two-page MSA can turn into a 40-page order so it is critical to understand each term. Your lawyer is your partner at mediation. Mistakes there can be irreparable later.
What if Mediation Fails?
Mediation is not always successful and may not result in a resolution of all issues. If any issues remain undecided, the parties will need to resolve them in court.
If you're dealing with matters concerning alimony, property division, child support, divorce, or other family law issues in Texas, get experienced help protecting your rights by contacting the dedicated and effective Houston family law attorney Maria Lowry at 713-850-8859.