With Common-Law Marriage, It's Simple to Tie the Knot in Texas; But There's No Equally Simple Common-Law Divorce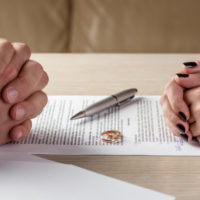 In Texas, two people can become married without getting a marriage license or having a marriage ceremony. It's called a common-law marriage. Most people are familiar with the term, but there's often uncertainty regarding just how legally binding, enforceable, and durable a common-law marriage is. The answer? Once established, a common law marriage has the same legal effect as a traditional marriage, which means—for better or worse, till death do you part—all the responsibilities of marriage come with it, too. That includes the necessity to legally divorce if you decide to end the union. Find out what one can expect with common-law marriage and how to file for common law divorce in Texas.
The Texas Common Law Marriage Requirements
A Texas common-law marriage requires a couple to do three things:
Agree to be married
Live together as husband and wife in Texas
Hold themselves out as being married
To hold yourself out as being married basically means you tell others you are married. For example, introducing yourselves as spouses or doing something that made people think you were married, such as buying a house together or filing taxes jointly. Even if you said you were married only one time, you can meet this requirement. But just living together does not automatically make you married, even if you live together for decades.
Filing a Declaration of Informal Marriage is the way to document the marriage. It can be backdated to the date on which all the criteria were met at the same time.
How to file for Common Law divorce in Texas?
Because Texas common-law marriages have the same legal status as a traditional marriage, you must get a formal divorce to end one. There is no equally simple common-law divorce where you agree to divorce, stop living together, and tell others you are divorced. Getting a divorce is the same as with other marriages. Sometimes one spouse will try to say there is not a marriage, and so issues of proof come in to play that might be tricky.
If you and your common-law spouse had children together, you must also work out a child support and custody arrangement during the divorce process. In addition, it may be necessary to enter court-approved financial agreements regarding spousal support and property division.
Seek Advice from an Experienced Texas Divorce Lawyer
Texas marriage and divorce laws can be confusing and especially overwhelming when you're living through the emotional trauma of ending a relationship. The Law Office of Maria Lowry in Houston, Texas can help. If you are facing divorce, speak with an experienced Texas family law attorney today. Knowing your rights and options will empower you, so you can confront the future with confidence rather than fear.