Child Custody and Relocation in Texas – The Basics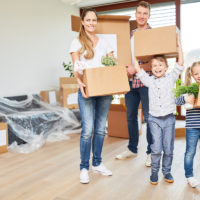 Divorce is, unfortunately, the gift that keeps on giving. Even after all the papers are signed, issues continue to arise, particularly if you share a child with your former spouse. We previously discussed the difficulties surrounding moving a child to a new school, and how to make the transition easiest for your children. Relocating or moving in general following a divorce can be a tricky prospect, even though it is very common following a divorce. Your options will be limited not only by the needs of your children, but also any custody orders from the court. But what do you do if, for example, you are offered a new job in a different state?
Relocation Restrictions in Child Custody Parenting Plan
If you and your spouse both plan to be in your child's life, you will have what Texas law refers to as a Joint Managing Conservatorship. Texas law presumes that both parents should stay involved with a child's life, if possible, and any parenting arrangement will be geared towards allowing this to happen. Divorcing spouses can work out a "parenting plan" together that sets up custody, visitation, and other aspects of your relationship with your child and your ex-spouse, and which can be incorporated into a court's final divorce decree.
Parenting plans generally contain a geographic restriction on the child's residence, particularly if you are the parent of your child's primary residence. If you are moving to another home within the same school district, city, or county, you likely do not need the approval of your ex or the court. But if you want to relocate somewhere on the other side of Texas, or to a different state entirely, you will be unable to realistically accommodate a parenting plan that calls for weekly or monthly visits by the other parent. If you want to move, you will need to either get your ex-spouse's approval or try to modify the parenting plan and the divorce decree.
Modifying your Texas Divorce Decree to Move
If the existing divorce decree limits your ability to move, and your spouse does not agree to you moving, you will need to petition the court to modify the decree. Like other child custody decisions, Texas courts focus on the best interests of the child in determining whether to modify a divorce decree to allow one parent to relocate with the child. Whether a court permits the modification will depend on the facts and circumstances of your case. You will need to consider what visitation arrangements make sense, and you may wish to have a study done of your home and even a psychological evaluation of your children on the potential impact of moving. You will also need to present a plan for covering the increased costs of visitation for the other parent.
Consider what your children stand to gain and lose from your potential move, other than that one parent will now have a better job than before. Factors such as being nearer to extended family or the ability to attend better schools can help weigh in favor of the move and mitigate the negatives of reduced visitation with the child's other parent. An experienced child custody lawyer can help you evaluate your situation and craft the best arguments to facilitate your relocation.
If you're facing divorce in Texas or seeking to modify the terms of a previous divorce, get legal help through the process by contacting the compassionate, dedicated, and effective Houston child custody lawyer Maria Lowry at 713-850-8859.